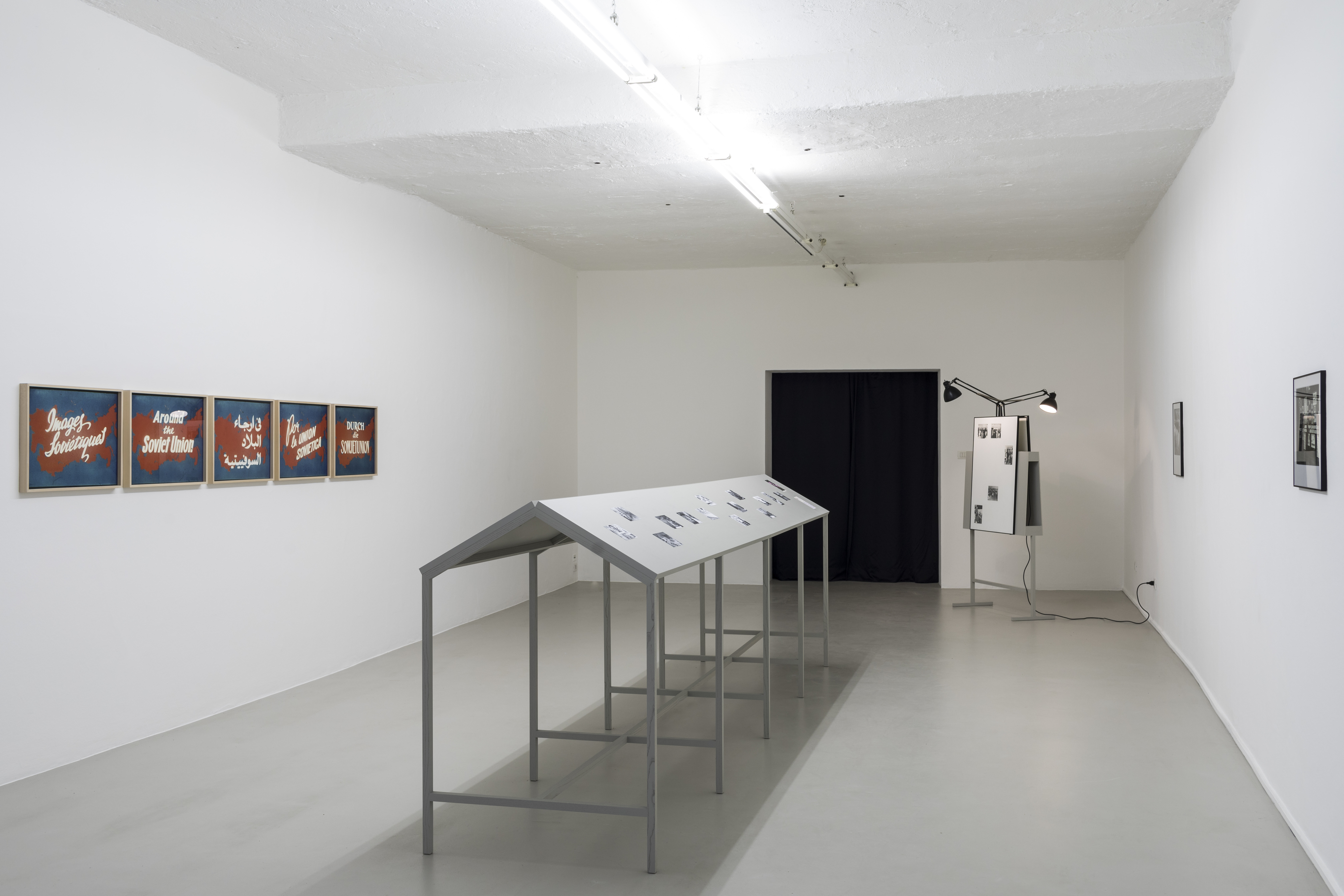 Image Diplomacy
Vladislav Shapovalov
02.12.2017 – 10.02.2018
Ar/ge kunst, Bolzano
Curated by Emanuele Guidi



Image Diplomacy is initiated by the discovery of an archive containing entire exhibitions and films sent from Soviet Union to Europe during cultural Cold War. These exhibitions were designed by the Society for Cultural Relations with Foreign Countries (VOKS) and circulated through a network of friendship associations established in many countries in order to promote to the world the image of a modern, emancipating, internationalist and alternative project to that of American capitalism.

The central aspects of Shapovalov's research focuses on methods of display and exhibition strategies employed for these expositions, which could be assembled autonomously and at low cost by simply following the instructions and technical drawings contained in the discovered files. The idea of a modernity within anyone's reach was proclaimed not only through the reproducibility of photography and film, but also by the display systems themselves, thus transforming the exhibition into the ideal medium for conveying and spreading this message.

The exhibition of the project critically re-enacts, recalls and isolates historical forms of exhibition display systems designed by VOKS. The show unites a series of installations and of archival materials reassembled within the installations that testify to the role that culture and images had on international relations, and recount in particular the relations between the USSR and Italy (which was the country with the most deep-seated Communist Party in the West).


The exposition is accompanied by a film by the artist documenting the battle carried out in the field of "exhibition diplomacy" between the two ideological blocks during the Cold War, comparing the story of exhibitions organized by the USSR with the story of the exhibition, The Family of Man - organized by the United States at MOMA in New York in 1955 and then presented in 69 countries around the world, including Italy in 1958 and Moscow in 1959.

Shapovalov's project offers a new perspective on the topics of display and politics of representation from the time when visual culture and exhibition design were capable of shaping political imaginary and forming transnational communities.

Image Diplomacy deals with history and the materials from which it is made. Dedicated to the re-composition of facts and narratives considered obsolete or forgotten, it ruminates over the question: Why do we look at the past?